Found a lump or bump? Worried about Cancer symptoms?
Cancer is an increasing worry for both Doctors and patients as we all come out of the global pandemic. We realise that many cancers have gone undiagnosed due to patients not presenting, or not presenting early- perhaps because patients were anxious about putting themselves at risk of infection, or of putting health services under undue pressure at a difficult time.
Covid restrictions caused a reduction of face-to-face GP consultations and an increase in over-the-phone consultations which has added to the complexity in providing patient diagnosis. This has led to under diagnosis, and rising levels of cancers presenting at a later stage, when they are less treatable or curable. In Northern Ireland, 1 in 4 cancers has been diagnosed in an A&E unit in the past 2 years.
It is important that we all try to increase our awareness and present as early as possible if we have worrying signs or symptoms, that could indicate cancer of one type or another.
At Kingsbridge Private Hospital, we are prepared and equipped to provide early cancer diagnoses, and have speedy access to Clinical Oncology services, which are excellently run by the NHS in Northern Ireland.
This enables us to quickly see and diagnose patients, facilitate "red flag" Consultant input, and, if appropriate, refer for Clinical Oncology follow up on an ongoing basis through the NHS as part of the appropriate multi-disciplinary team for the particular cancer in question. Cancer that is diagnosed at an early stage is more likely to be treated successfully. That is why it is important to seek medical help if you have concerns or have developed symptoms. 

If you have a family history of cancer or are concerned about a lump or bump or simply need peace of mind, call us today and book an appointment with one of our GP's or specialist Consultants. 
​If you have a general concern then we can arrange a consultation online with one of our experienced GPs. However if it relates to a more specific body area and you would prefer a consultation with a Consultant please follow the links below.

Breast Cancer
Skin Cancer
Bowel Cancer
Urological Cancers
Gynaecological Cancers
Gastrointestinal Cancers
How can I access Kingsbridge Cancer Diagnostics Clinic and what is the pathway? 
Accessing Kingsbridge Diagnostics Clinic couldn't be easier. Our step by step guide below explains the pathway from initial point of contact to an onward referral if required: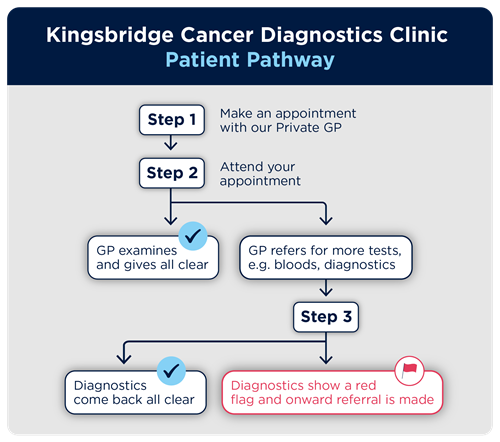 Why Use Our Cancer Diagnostics Clinic? 
30 minute appointment with our GP
Onsite access to over 400 consultant specialties 
Rapid access to MRI, CT, X-Ray, Endoscopy and Ultrasound
Scans and diagnostics may be covered by private health insurance
Our GP's and Consultants follow the approved NICE guidelines when making any diagnosis
Don't wait or suffer in silence. If you would like to make an appointment to discuss any of the above with one of our GPs or Consultant Specialists in this area please follow the options below.
Please note our cancer diagnostic service initially requires a GP appointment and this is priced at £110 for a 30 minute face to face appointment. Should you be referred for additional tests, screening or scans then additional costs will be incurred. You will be advised of these costs prior to any further appointments being made.
If you would like to book an appointment or require further information about testing and treatment for Cancer, please do not hesitate to contact our private patient booking team via our online enquiry form.

Alternatively,
;