Urological Cancers
Urology Cancer is a general term for cancer of anything relating to the male and female urinary tract and the male reproductive system. This includes kidneys, bladder and prostate and male reproductive organs.
Symptoms of Prostate Cancer
Prostate cancer is the most common cancer in men in the UK, with over 40,000 new cases diagnosed every year.

Prostate cancer usually develops slowly, and there may be little or no signs that you have it, possibly for many years.

Symptoms often only become apparent when the prostate is large enough to affect the urethra (the tube that carries urine from the bladder to the penis). This normally results in problems associated with urination.

Symptoms can include:
needing to urinate more frequently, often during the night
needing to rush to the toilet
difficulty in starting to urinate
straining or taking a long time while urinating
weak flow when passing urine

feeling that your bladder has not emptied fully
Many men's prostates get larger as they get older due to a non-cancerous condition known as prostate enlargement.

Symptoms that the cancer may have spread include bone and back pain, a loss of appetite, pain in the testicles and unexplained weight loss.

It is vitally important these symptoms are not ignored and while they do not necessarily mean you have prostate cancer; it is worth seeking advice from a medical professional.
Symptoms of Kidney Cancer
Kidney cancer is the eighth most common cancer in adults in the UK, with just over 10,100 people diagnosed each year. Most cases of kidney cancer don't cause any symptoms in the early stages.

The most common symptoms of mid- to advanced-stage kidney cancer are:
a persistent pain just below the ribs, at the back, on either side
a lump or swelling in the area of your kidneys (on either side of the body)
blood in urine- enough to turn urine bright, dark red or brown
However, in around half of all cases diagnosed, kidney cancer causes no symptoms and is only detected during a routine ultrasound scan.
Less common symptoms of kidney cancer include:
extreme tiredness (fatigue)
unexplained weight loss
a high temperature of over 38 degrees
night sweats
a general sense of feeling unwell
swelling of the veins in the testicles (in men)
loss of appetite
high blood pressure (hypertension)
It is therefore important to seek medical advice if you are worried or experience any of the symptoms mentioned.
Symptoms of Bladder Cancer
Bladder cancer is the result of abnormal tissue growth in the bladder lining. In some cases the tumour may have spread to the surrounding muscles outside the bladder.

Blood in your urine is the most common symptom of bladder cancer. The medical name for this is haematuria and it's usually painless. This may appear as blood streaks or may be more severe and appear to turn your urine brown. The blood isn't always noticeable and it may come and go.

Less common symptoms of bladder cancer include:
a need to urinate on a more frequent basis
sudden urges to urinate
a burning sensation when passing urine
Please note that the symptoms above can also indicate a Urinary Tract Infection. So, please have a medical check up if you present with these symptoms 
If bladder cancer reaches an advanced stage and begins to spread, symptoms can include:
pelvic pain
bone pain
unintentional weight loss
swelling of the legs
Symptoms of Testicular Cancer
Testicular cancer is a relatively rare type of cancer, accounting for just 1% of all cancers that occur in men. Around 2,200 men are diagnosed with testicular cancer each year in the UK.

Testicular cancer is unusual compared to other cancers because it tends to affect younger men. Although it's relatively uncommon overall, testicular cancer is the most common type of cancer to affect men between the ages of 15 and 49.

The most common symptom of testicular cancer is a difference in size between one testicle and the other; a lump or painless swelling in one of your testicles. The lump or swelling can be about the size of a pea, but may be larger.

Testicular cancer can also cause other symptoms, including:
dull ache or sharp pain in your testicles or scrotum, which may come and go
feeling of heaviness in your scrotum
change in the texture or increase in firmness of a testicle
Most lumps or swellings in the scrotum aren't in the testicle and aren't a sign of cancer. But they should never be ignored. It is important to visit a medical professional if you notice a lump or swelling in your scrotum.
How can I access Kingsbridge Cancer Diagnostics Clinic and what is the pathway? 
Accessing Kingsbridge Diagnostics Clinic couldn't be easier. Our step by step guide below explains the pathway from initial point of contact to an onward referral if required: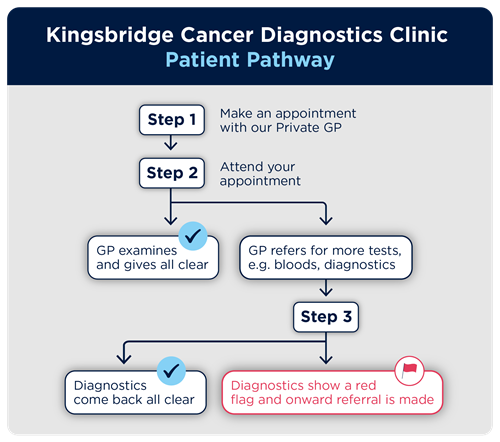 Why Use Our Cancer Diagnostics Clinic? 
30 minute appointment with our GP
Onsite access to over 400 consultant specialties 
Rapid access to MRI, CT, X-Ray, Endoscopy and Ultrasound
Scans and diagnostics may be covered by private health insurance
Our GP's and Consultants follow the approved NICE guidelines when making any diagnosis
Don't wait or suffer in silence. If you would like to make an appointment to discuss any of the above with one of our GPs or Consultant Specialists in this area please follow the options below.
Please note our cancer diagnostic service initially requires a GP appointment and this is priced at £149 for a 30 minute face to face appointment. Should you be referred for additional tests, screening or scans then additional costs will be incurred.  You will be advised of these costs prior to any further appointments being made.
If you would like to book an appointment or require further information on the available options, please do not hesitate to contact our private patient booking team via our online enquiry form.

Alternatively, email Kingsbridge Private Hospital
;