Life saving heart surgery is now available at our new cardiac facilities at Kingsbridge Private Hospital, Belfast.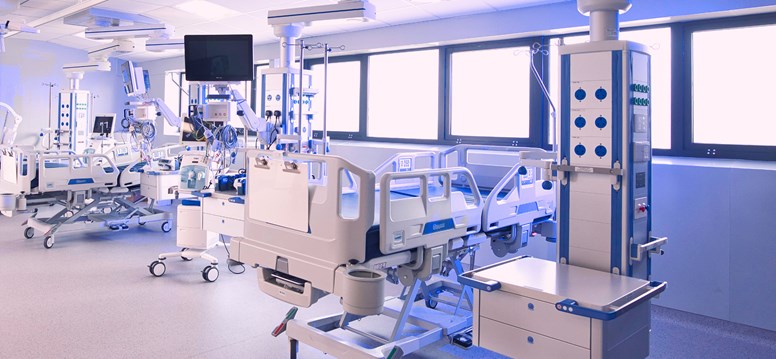 Kingsbridge Private Hospital is delighted to announce the opening of our Cardiac Surgery service and Intensive Care Unit.
Are you a patient waiting on heart surgery? We can now carry out life-saving cardiac surgery at our state-of-the-art theatre in Belfast. Our brand-new theatre has just opened and features the latest and most up to date technology and equipment. 
On board we have a highly skilled team of Cardiac Surgeons and nursing staff. The service is led by Consultant Cardiac Surgeon Mr Oc Nzewi.
We offer rapid access to a wide range of procedures and our expert team are ready to see you.
What kind of heart surgery is available?
Cardiac Bypass Surgery
Heart Valve Replacement
Closure of Septal Defect

---
Cardiac Bypass Surgery
Cardiac Bypass Surgery is the most common heart operation preformed in Northern Ireland and the UK. It is also the most effective way to treat Coronary Heart Disease in patients with a very extensive type of disease where stenting is judged to be unsuitable by a combined group of cardiologists and surgeons at the 'Heart Team' meeting. This is more so, in patients where all three arteries or two are blocked or narrowed significantly, especially if they suffer from diabetes mellitus and have reduced heart function.
The two main benefits of bypass surgery are:
alleviation of symptoms of angina
prolonged life
What is Coronary Heart Disease?
Coronary Heart Disease occurs when your hearts arteries become clogged by fatty deposits. If you are overweight or eat a high fat diet, you might be at risk of developing Coronary Heart Disease.
Symptoms include breathlessness and chest pain, and the condition can increase your chance of having a heart attack.
Having a Cardiac Bypass is major surgery and during the procedure your Consultant will need to make a series of incisions around the chest wall. They will then connect healthy veins to the clogged arteries.
At Kingsbridge Private Hospital Cardiac Unit, the Coronary Artery Bypass (CABG) is performed mostly by using the standard heart lung machine to stop the heart during the operation. However, in suitable cases, we offer beating heart surgery too.
CABG is done through a full split of the breastbone using a combination of arteries and a vein to bypass the obstruction. Arteries are harvested from under the breastbone or from the arm whilst the vein is taken from either leg. Increasingly our surgeons use more and more arterial grafts as there is evidence that arteries tend to remain open longer than vein grafts. We prefer endoscopic vein harvesting through two small incisions rather than conventional long incision on the leg.
Once your surgery is complete, you will need recovery time. This is a major procedure but could save your life.
---
Heart Valve Replacement
Heart Valve Replacement repairs or replaces the damaged or diseased heart valve or valves. Out of the 4 valves inside the heart the aortic, mitral and tricuspid valves are the ones commonly involved in the disease process that needs surgical treatment.
Aortic Valve Surgery
At Kingsbridge Private Hospital Belfast, we offer aortic valve replacement with prosthetic mechanical or tissue valve for treatment of symptomatic aortic valve stenosis or regurgitation. This is commonly done through the big incision on the breastbone, but in selected cases, can be carried out through a small 8-10cm incision.
The benefit of which includes:
less post-operative pain
cosmetically better wound
faster recovery
We currently do not offer Transcatheter aortic valve replacement also known as TAVI.
Mitral Valve Repair/Replacement
Mitral valve is the second most affected valve, and commonly here, the disease process is regurgitation (leaky valve). In symptomatic patients, preservation of the body's own tissue by repairing the valve is better and it provides a long-lasting solution compared to replacement with a new artificial valve. This is best done by experienced surgeons with relevant training and skills in valve repair. We have surgeons on our list that are highly skilled in mitral valve repair.
Tricuspid Valve Surgery
This valve is less commonly involved in isolation. Tricuspid valve repair is often done as part of mitral valve surgery in selected patients. At Kingsbridge Private Hospital, we will only accommodate patients at low risk of surgery that needs concomitant tricuspid valve surgery.
At Kingsbridge Private Hospital, our expert Cardiac Consultants will replace the faulty value with either a tissue valve or a mechanical valve. This new valve will ease the pressure on your heart and help improve your overall health.
---
Closure of Septal Defect (hole in the heart)
A septal defect occurs where there is a hole in the heart chamber.
Symptoms include shortness of breath, fatigue, heart palpitations and the presence of a heart murmur. In some cases, it can also cause stroke.
The procedure involves making a small incision in the groin where a wire and sheath are introduced into the femoral vein. A occlude device is then introduced through the sheath and this is expanded within the defect to close it. Sometimes a balloon is also used to measure the size of the defect.
Why wait for heart surgery when you don't have to? Our state of the art theatre and ICU is open now. Contact us today to find out more.
Patients awaiting Cardiac Surgery can attend Kingsbridge Private Hospital as a self-funder. Alternatively, we also work with most major insurance companies.
You can read more about our Cardiac Unit and the first patient to undergo life-saving surgery at our new private cardiac intensive care unit in Belfast by following the links below:
Belfast Telegraph - Heart patient hails private cardiac unit that saved him from waiting list limbo
Irish News - Private clinic invests £3m in heart surgery
Newsletter - NI's first private cardiac surgery service and ICU
Cool FM - NI's first private cardiac surgery and ICU has opened in Belfast
Cool FM News - NI's first private cardiac surgery
If you would like to book an appointment or require further information on the available options, please do not hesitate to contact our private patient booking team via our online enquiry form.

Alternatively, email Kingsbridge Private Hospital
;