Kingsbridge Private Hospital North West has recently installed a new, state-of-the-art Siemens Magnatom Sola MRI Scanner.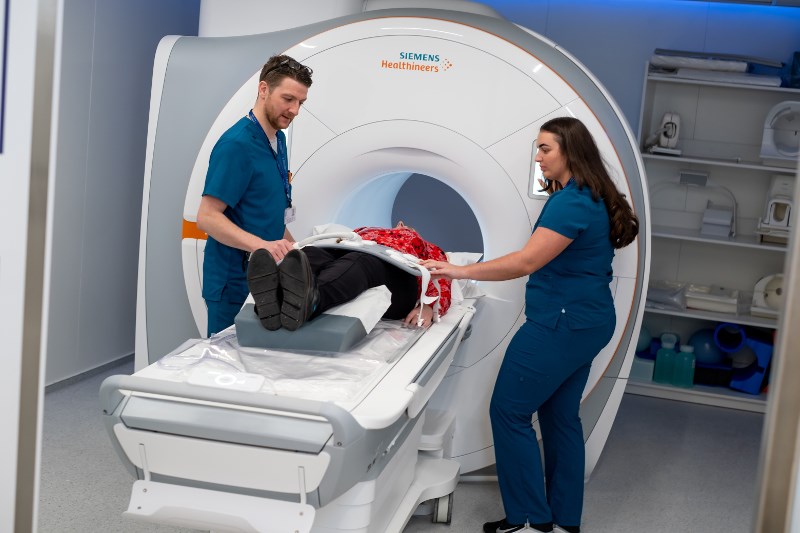 Our new scanner provides several key benefits, including;
Faster scanning due to reduced imaging acquisition times and reduced patient set up times.
Less anxiety for claustrophobic patients due to wide tunnel width (70cms) and short tunnel length (157cms)
More comfort for immobile patients due to the BioMatrix system (equipment can adapt to best fit the patient)
Up to 70% noise reduction compared to previous models.
Overall improved patient experience due to high quality ventilation, illumination of tunnel, redesigned headphones to help relax patient (with music)
Less equipment will be required to be attached to the patient for complicated scans such as cardiac MRI - again leading to a faster scan time.
Our new MRI scanner offers the latest in high quality imaging and diagnostics and will provide a better experience for patients and faster turnaround times for our clinicians.
What is MRI?
Magnetic Resonance Imaging (MRI) is a medical scanning procedure that uses radio waves and strong magnetic fields to create detailed images of various parts of the body. Able to produce images of the inside of the body, MRI is one of the most insightful and innovative of all diagnostic scanning procedures.
We use MRI scanning to examine many parts of the body, including:
the bones and joints
the spinal cord and brain
breasts
internal organs such as the womb, prostate gland and liver
the heart and blood vessels
Your MRI scan results can be used to help us to diagnose and treat a number of different conditions. Further MRI's can help us to assess how effective your prescribed treatments have been and whether we need to plan further treatments.
What happens during an MRI scan?
We aim to ensure that you are totally comfortable and at ease during every stage of the MRI scanning procedure. The process can last between 15 and 90 minutes, during which time you will need to lie as still as possible. The scanner will be operated by one of our experienced radiographers who will ensure you know how long your scan is going to last and what to expect.
You will be in a separate room, but you will have direct contact with the radiographer at all times through the intercom system. They will also be able to see you on their monitor during each stage of the scan to ensure you are comfortable and everything is as it should be.
During certain parts of the scan, you will hear loud tapping noises. This is nothing to worry about; it is simply the scanner coils being switched on and off. We will give you headphones or earplugs to wear for your comfort and safety.
How should I prepare for my scan?
Unless you are told otherwise by your doctor or one of our consultants, there are usually no special preparations before an MRI scan. We do ask that you try to wear clothes without any metal fastenings such as zips, buckles or hooks, and that you leave jewelry and other valuable possessions at home. We will also ask you to complete a patient questionnaire so that we can assess your suitability for an MRI scan. For example, if you have a pacemaker or specific metal implants, you may not be suited to this type of procedure.
Leading the way in diagnostic scanning - book your appointment today!
Here at Kingsbridge North West, we offer a wide range of diagnostic assessments designed to help us investigate a number of conditions. An MRI scan can be very beneficial in giving us insight into what is going on inside your body and in guiding us towards the most suitable treatment for you. We have years of experience of working with MRI and other medical examination technologies.
---
FAQ's For Referring Clinicians
Why choose the MRI scanning service at Kingsbridge Private Hospital?
We aim to provide same day scanning in the vast majority of cases. Once we have the received the referral simply call us on 02877763090 or email infonw@kingsbridgeprivatehospital.com and we will create an appointment slot that suits the patient. Our images are all reported by consultant NHS Radiologists within 48 hours of the appointment. The report is then sent to the referring clinician. 
Who can refer for an MRI Scan?
GP Referrals: Patients can be referred by their Consultant Medical Doctor or their General Practitioners as shown in the guidelines published by the Royal College of Radiologists.
Physio Referrals: Physiotherapists, Chiropractors and Osteopaths can also refer for scans relating to their field of specialty. For example, Chiropractors can only refer for Spines; in accordance with the joint publication between the Royal College of Radiologists and the professional bodies representing the respective Allied Health Professions entitled "Clinical Imaging Requests from Non-Medically Qualified Professionals" 
What is required to refer?
The referrer must be a recognised clinician who is adequately trained and whom remain competent to refer via continued professional development. In accordance with the MHRA guidelines referrers must provide accurate patient details, referrer details, the region to be scanned and the appropriate clinical information to justify the examination. This information should all be entered into our referral form and the referral form sent via one of our various submission options, this includes email, online booking form or fax.
Why opt for MRI scanning?
It provides clear, detailed images for a variety of pathology. Including, but not exhaustive:
Musculoskeletal problems
Sports injuries
Neurological problems
Spinal problems
Vascular problems
Soft tissue abdominal/pelvic pathology
Bowel problems
ENT conditions
An MRI emits no radiation and has no known detrimental effects on the patient. It is a safe painless procedure.
Who can not have an MRI scan?
For safety reasons, patients with the following implants are not suitable for this procedure due to the strong magnetic fields used in MRI:
Cardiac Pacemaker/Defibrillator
Aneurysm Clips
Cochlear Implant
Programmable Hydrocephalus Shunt
If you would like to book an appointment or require further information to set up your consultation or for further information about MRI Scans, please do not hesitate to contact our private patient booking team via our online enquiry form.

Alternatively,
;