Get To Know Our BUPA Belfast Health Centre Manager
25th, Jul 2022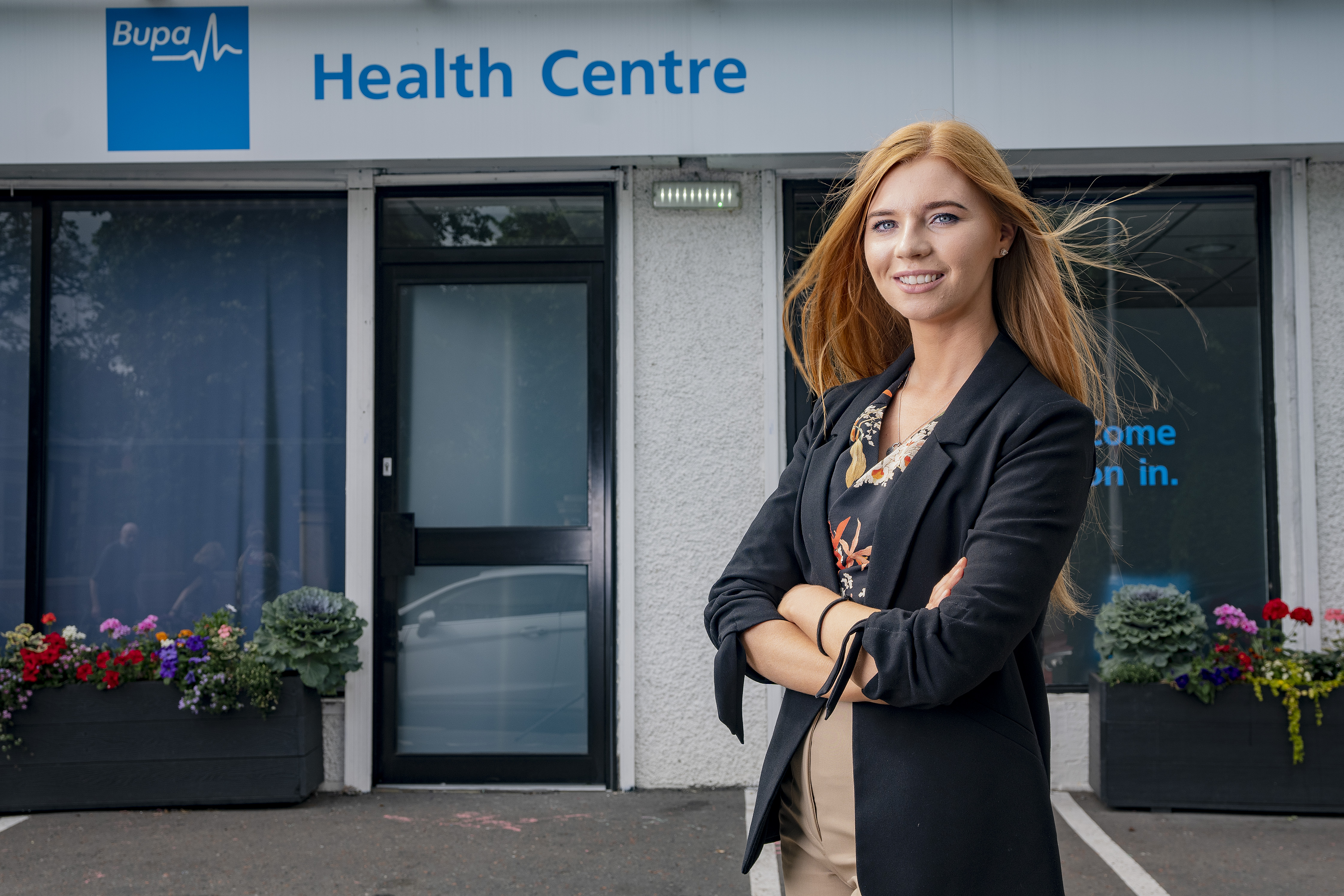 We are delighted to welcome and introduce Brighid Magee, our new BUPA Health Centre Manager in Belfast. We have compiled a short Q&A to find out a bit more about Brighid and to discuss all thing BUPA Health Assessments.    
What does your typical day look like at BUPA Health Centre Belfast?
No two days are the same in the centre. There is always something going on in the background.  I am accountable for leading and owning all centre activities ensuring performance is optimised. My role is focused on operational performance, centre growth, quality improvement and people management. I am always assessing how we can improve across all service lines while having the patient at the centre of my decisions. Typically, I can be found at ground level in the heart of the clinic having a visual on all that goes on in the centre. We usually have two clinics running side by side and an MSK service twice a week.
How did you get into your area of work, and what are the best and most challenging aspects of the job?
I joined the group in 2020 starting in the appointments team. I then moved to the Primary Care Administrative Team in September 2021. I would have worked within the Bupa centre as part of this role offering administrative support to the clinicians on duty and I believe this has made the transition to Centre Manager in June 2022 slightly easier.
I love my job and the team I look after. I cannot speak highly enough of them. The best aspect has to be the feedback we receive from patients, in regard to their experience from booking to their annual reviews and how highly they commend our staff.
The most challenging aspect is trying to grow the service and understanding the diaries. We are very busy at present which is great as we continue to see a demand for appointments. A great challenge to have and very promising prospects for the future!
What was your favourite subject at school and why? Did you always want to work within the health sector?
Music was always a firm favourite for me. I studied this to GCSE level, and I play the piano. I always found the theory fascinating and thought of it as learning a new language; symbols have meanings and although most notes look the same, they all hold individual value. The health sector never really triggered any interest for me. When I left school, I initially worked in the hospitality sector mainly hotel reception. As time passed, I wanted to try something different and broaden my skillset, now I can't imagine working anywhere else!
How many Health Assessments are available at BUPA Belfast, and do you need a referral to book or BUPA Health Insurance?
There are ten different health assessments available. When you hear the word Bupa automatically Health Insurance springs to mind, you do not have to be a Bupa Member to avail of this service. A Health Assessment does not require a referral - it is a preventative health check that uses medical and non-invasive tests to give a current health and well-being overview. Our trained Doctors and Health Advisers carry out all our assessments and can discuss any specific health concerns you may have. If needed, our team can also arrange private GP referrals for further treatment or diagnostic tests, too. As part of your assessment, you'll benefit from 12 months of health and well-being support from our experts to help you achieve your long-term health and fitness goals.
The ranges we offer from the Bupa Portfolio are:
Be.Well - health and well-being plan
Specific Health Checks - offering reassurance on specific concerns like cancer or heart disease
We see a variety of patients in Bupa Belfast from self-funders to contracted corporate clients that send their workforce for an annual well-being check-up.
What other specialties are offered at the BUPA Centre?
We are very fortunate to be able to offer an MSK Service at Bupa Belfast.
MSK is the diagnosis and treatment of problems arising from the musculoskeletal system. This includes injuries and diseases affecting the muscles, bones and joints of the limbs and spine.
Dr Alan Rankin who also specialises in sports medicine is our MSK consultant and works in the centre on Monday and Friday Mornings. Often Dr Rankin makes a referral to Physiotherapy, this too falls under the MSK umbrella, the appointment takes place at our Bupa Belfast Physiotherapy Clinic lead by Shea McAleer at Queens PEC.
You do not need to have Bupa Insurance to avail of these services. To book an MSK appointment you should contact the bookings team on 0345 604 0612 or email myself directly brighid.magee@bupa.com
What advice would you give to someone who is concerned about their health?
Our motto at the centre is 'if in doubt, check it out'. It is always better to address your concerns and be offered the reassurance than have a continuous fear. The assessments are a great way to gain an understanding of your lifestyle and the implications this has on your health. I can assure you that the team here are proactive in their approach, tailoring assessments specifically to your needs. After all prevention is better than cure.
Get in touch!
If you have a concern or would like to get in touch to book a BUPA Health Assessment, please contact 0345 604 0612 or you can email Brighid directly at brighid.magee@bupa.com
For further information on our Health Assessments available, please click here
---