The Kingsbridge Foundation - One Year On
10th, Feb 2023
Our Kingsbridge Foundation has been keeping busy over the past year, raising money for the community through charitable work, fundraising and local initiatives.
Each year our panel made up of staff and clinicians across the Group decide with the guidance of the Chair, Dr Martin Shields and the Community Foundation NI to choose certain charities and community initiatives to support. 
Who have we helped?
As of July 2023, the Kingsbridge Foundation has assigned £342,000 and of which £219,000 has been donated to local charitable causes across Northern Ireland.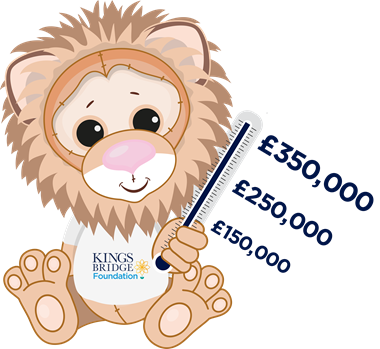 Belfast
Kingsbridge Foundation Awards £16,000 To Support Mental Wellbeing In Belfast
In partnership with The Community Foundation NI, our Kingsbridge Foundation contributed £16,000 across three organisations who support work in areas of health and well-being. These included Mindskills, TAHMI and Streetbeat.
Mindskills is a charity that supports families and individuals affected by suicide, they received a donation of £10,000.
TAHMI and Streetbeat, two Belfast based charities who both support young people to overcome mental health challenges received a donation of £3,000 each.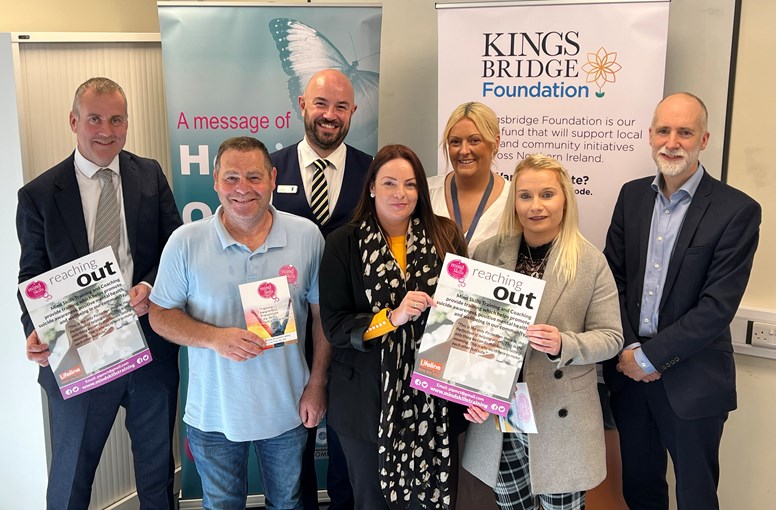 Pictured (back row): Dr Martin Shields, Conor Rooney and Claire Niblock from our Kingsbridge Foundation Board and Marcus Cooper from CFNI.
Pictured (front row): Phil Taggart from Mindskills with Debbie Johnston and Maria Kennedy from our Kingsbridge Foundation Board
Kingsbridge Foundation Donates £1000 To Kingsbridge Chef Who Sky Dives In Aid Of Leukaemia & Lymphoma NI
The Kingsbridge Foundation donated £1,000 to Chef Fabian Menkenhagen who recently took part in a Sky Dive in May 2022 in aid of Leukaemia & Lymphoma NI, a charity very close to Fabian's heart and the only charity in Northern Ireland dedicated to blood cancer research.
Alongside a Kingsbridge bake off and raffle held by the catering team raising £450, Fabian raised an amazing £6100 for Leukaemia & Lymphoma NI. Their mission is to improve survival rates and quality of life for all blood cancer patients by supporting clinicians, scientists and students researching these diseases.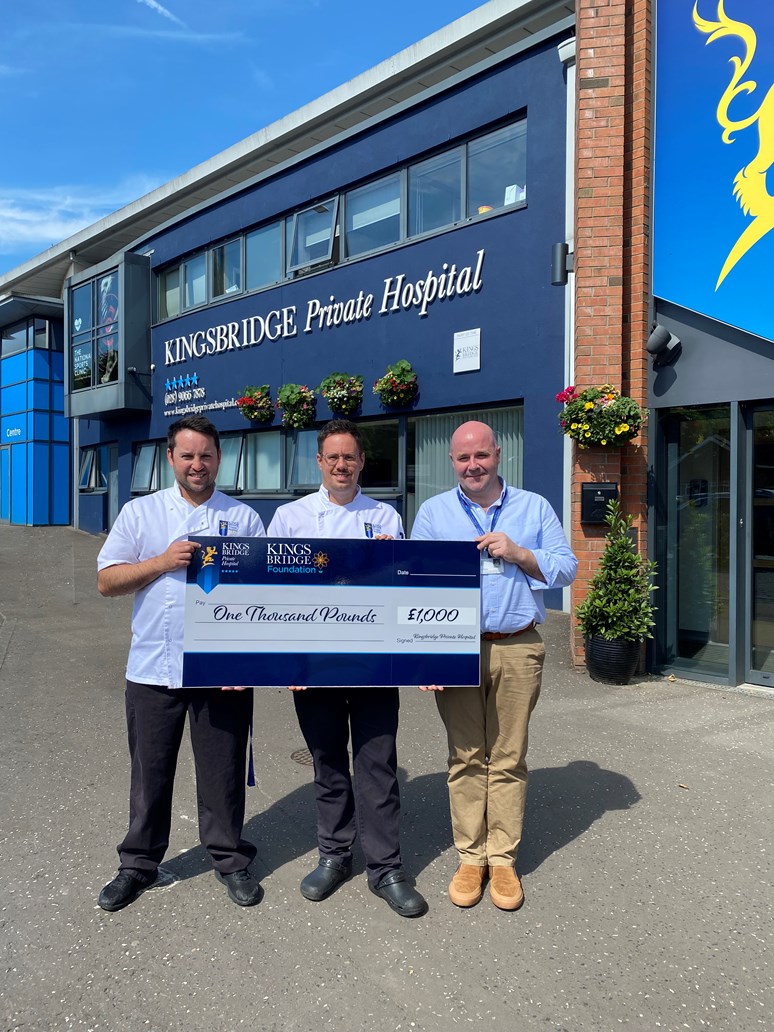 Pictured: Head Chef Sammy Gurr, Chef Fabian Menkenhagen and Catering Manager Jim Farren.
Kingsbridge Foundation Donates To Victoria College Preparatory School's Music Department
On the run up to Christmas, we were delighted to welcome Primary 6 and Primary 7 children from Victoria College Preparatory School who brought their festive cheer by singing carols in our Outpatients building at the Hospital.
A donation was made on behalf of the Kingsbridge Foundation which will be used to buy new instruments for the music department at the school.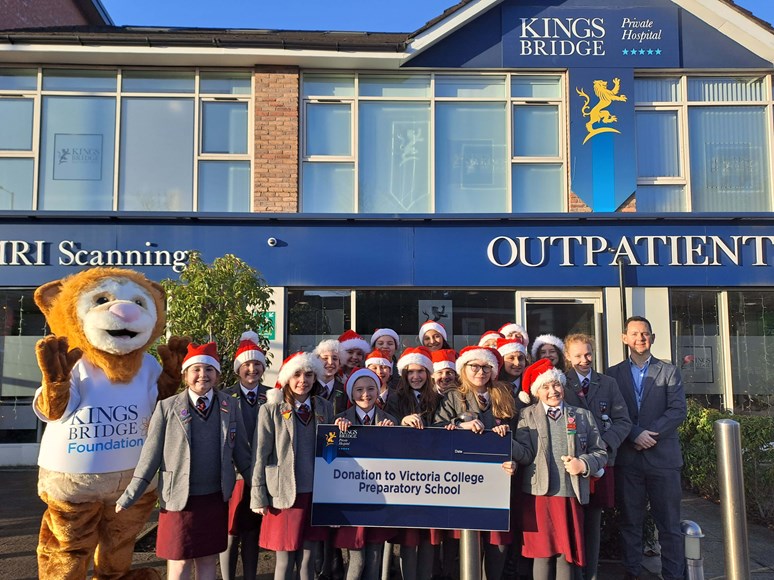 HIV Charity Positive Life Fundraising Initiative
Positive Life, Northern Ireland's only charity dedicated to supporting anyone affected by HIV launched a brand-new project with the aim of tackling the stigma associated with HIV in Northern Ireland. The Kingsbridge Foundation provided their support with funding across the next 5 years.
In support of this new charity initiative, the Kingsbridge Foundation will fund £5,000 across the next 5 years to help create a Northern Ireland where a diagnosis attracts no more or less significance than any other serious long-term condition, and where the often paralysing shame and fear are a thing of the past.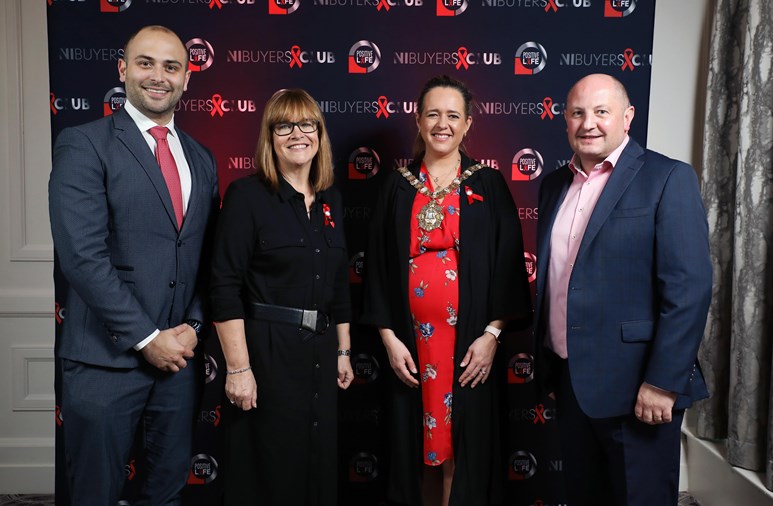 Pictured: Ciaran Moynagh, Partner at Phoenix Law; Jacquie Richardson, CEO of Positive Life; Lord Mayor of Belfast, Councillor Kate Nicholl; and Mark Regan, CEO of Kingsbridge Healthcare Group.
Cataract Mission To Cambodia
In February, a team made up of Shane Higgins, Optometrist at Kingsbridge Opticians, Mr Brendan Lacey, Ophthalmology Consultant and Nurses from Kingsbridge Private Hospital jetted off to Cambodia to take part in a weeklong Charity Cataract Mission.
Working with KHMER sight foundation, our team alongside many other clinicians from across Belfast and Northern Ireland made the trip to help fight blindness in Cambodia. This mission makes it possible to provide free eye surgeries for Cambodians from rural communities. Every day, the team performed approximately 40 cataract surgeries alongside follow up reviews the following day.
The Kingsbridge Foundation, supported by Kingsbridge Private Hospital in Belfast helped to fund this trip to help the team share their time, resources and skills to help strangers across the world to see again.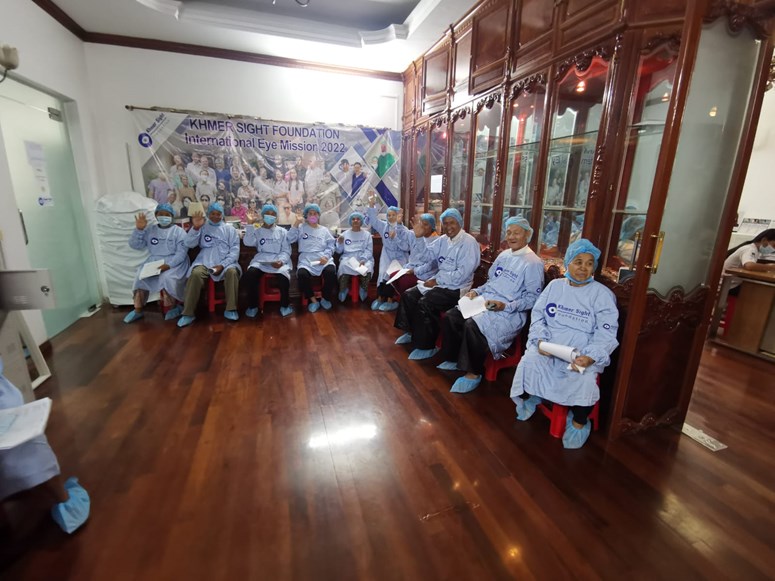 North West
Kingsbridge Foundation Awards £13,000 To Support Mental Wellbeing In The North West
In partnership with The Community Foundation NI, our Kingsbridge Foundation contributed £13,000 across two organisations who support work in areas of health and well-being. These included Limavady Initiative for Prevention of Suicide (LIPS) and Equine Enrichment CIC.
LIPS is a charity that supports families and individuals affected by suicide, they received a donation of £10,000.
Equine Enrichment CIC, based in the North West, improves mental, physical and social well-being through the interaction of horses and they received £3,000.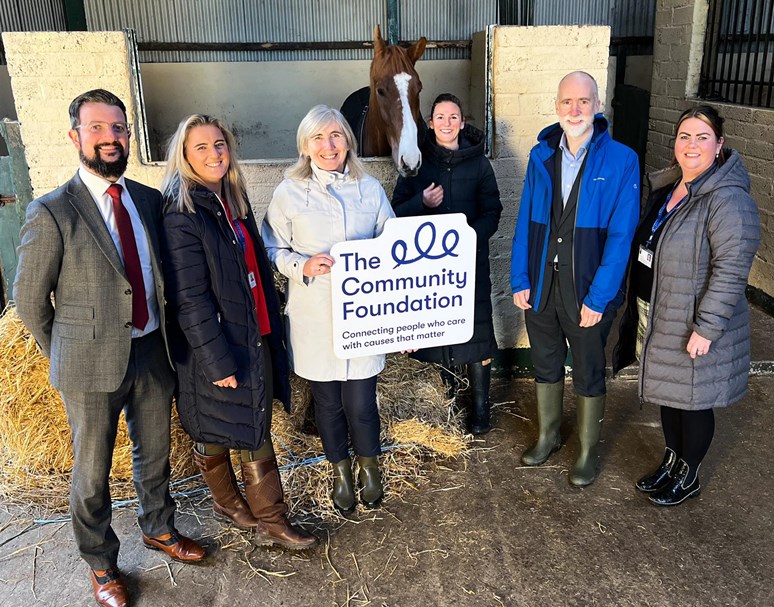 Pictured: Anthony McKenna - General Manager at Kingsbridge North West, Katherine Kyle - Theatre and Outpatient Capacity Manager, Shauna Kelpie from CFNI, Louise Moorehead - Equine Enrichment Director, Marcus Cooper from CFNI and Lynsey Brown - Theatre Utilisation Manager
£2,000 To St. Finlough's Primary School In The North West To Go Towards A New Sensory Room For The School
St Finlough's Primary School is a local school located close to Kingsbridge Private Hospital North West that only has 67 pupils. The Kingsbridge Foundation awarded the school £2,000 to go towards a new Sensory Room, which they hope to start work on over the coming months.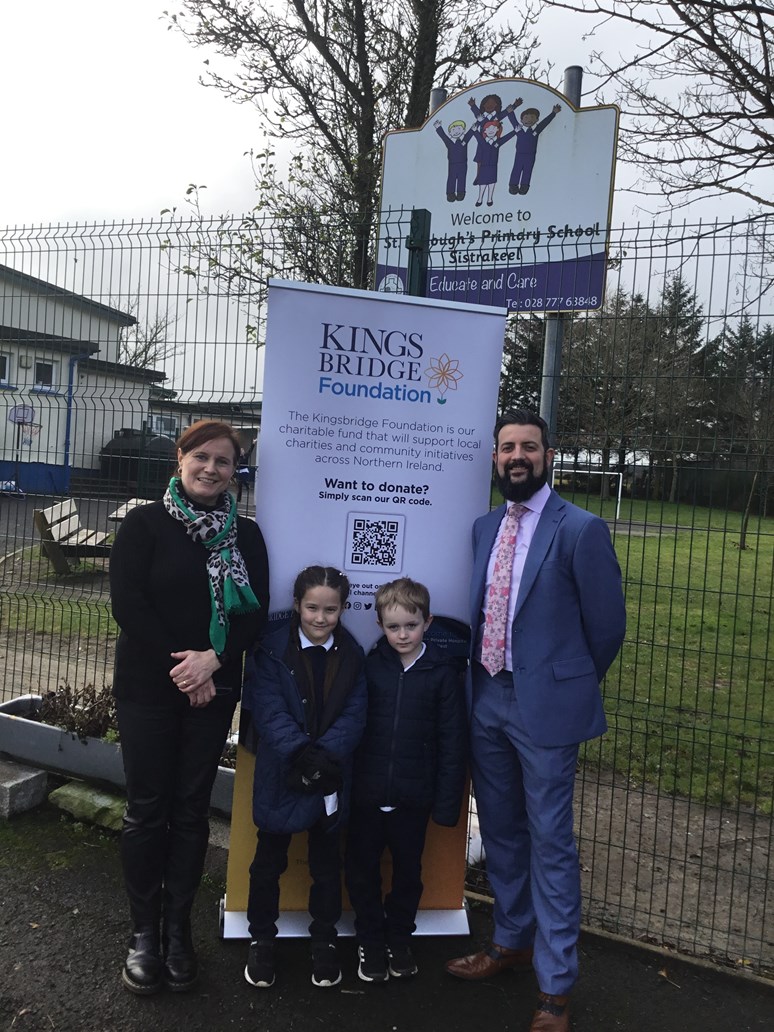 Pictured: Anthony McKenna, General Manager of Kingsbridge Private Hospital North West with Acting Principal Fiona Patton wand Primary 3 pupils, Erin and Caolan
Free Breakfast For All Students Throughout February 2023 At Limavady High School
For the month of February, Limavady High School will be providing free breakfasts for all pupils thanks to a donation made through the Kingsbridge Foundation.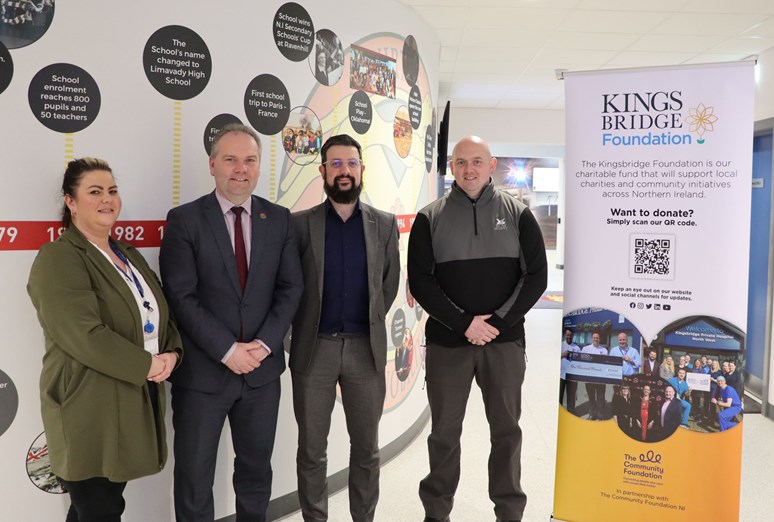 Local Events & Fundraisers
A number of fundraising events have also taken place throughout the year to raise money for the Foundation.
The Eve & Maddie Charity Football Cup Raised £1500 For A Local Baby Bank Through The Kingsbridge Foundation
On Sunday 25th September, we were delighted to be part of the Eve and Maddie Cup, a charity football match in memory of Jemma & Andrew's girls and Ozzie's little sisters, Eve and Maddie Watson.
Jemma Watson, one of our recovery nurses at Kingsbridge Belfast wanted to donate the money raised through the Kingsbridge Foundation to a cross community charity - Living Hope Belfast's' Baby Bank.
A massive £1061.66 was raised at the family fun day alongside the match at Lower Maze FC. This was topped up to £1,500 by our Kingsbridge Foundation. The money will go towards helping new mums and children under two years old.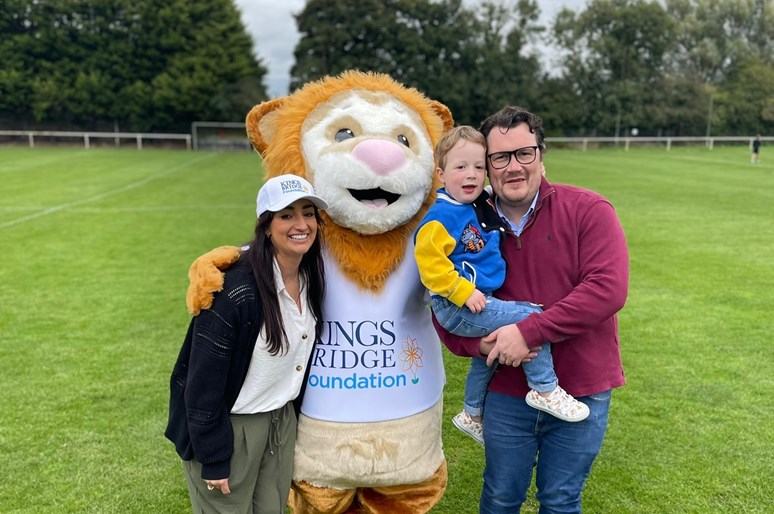 Pictured: Jemma, Andrew and Ozzie Watson with our mascot Roary
The Belfast City Marathon Raised £12,000 For The Foundation
On Sunday 1st May 2022 staff from across the Kingsbridge Healthcare Group took part in the Mash Direct Belfast City Marathon and raised over £12,000 for the Foundation. These funds will go a long way to helping local charities.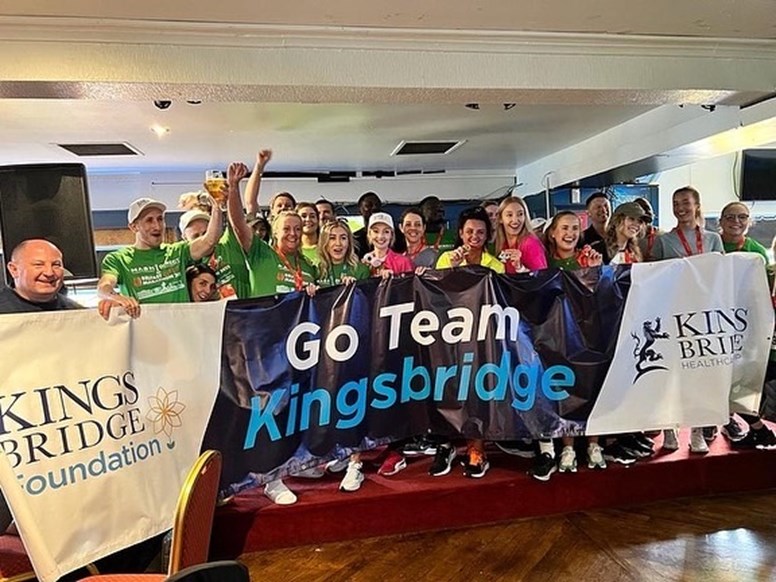 How can I donate?
If you would like to make a donation to the Foundation, you can do so via our Just Giving Page
Alternatively, you can make a bank transfer as per details below:
Reference: "Kingsbridge Foundation"
Account Name: Community Foundation for Donations
Bank Name: First Trust Bank
Sort Code: 93 86 00
Account Number: 3948 0761
IBAN: GB59 FTBK 9386 0039 4807 61
BIC: FTBK GB2B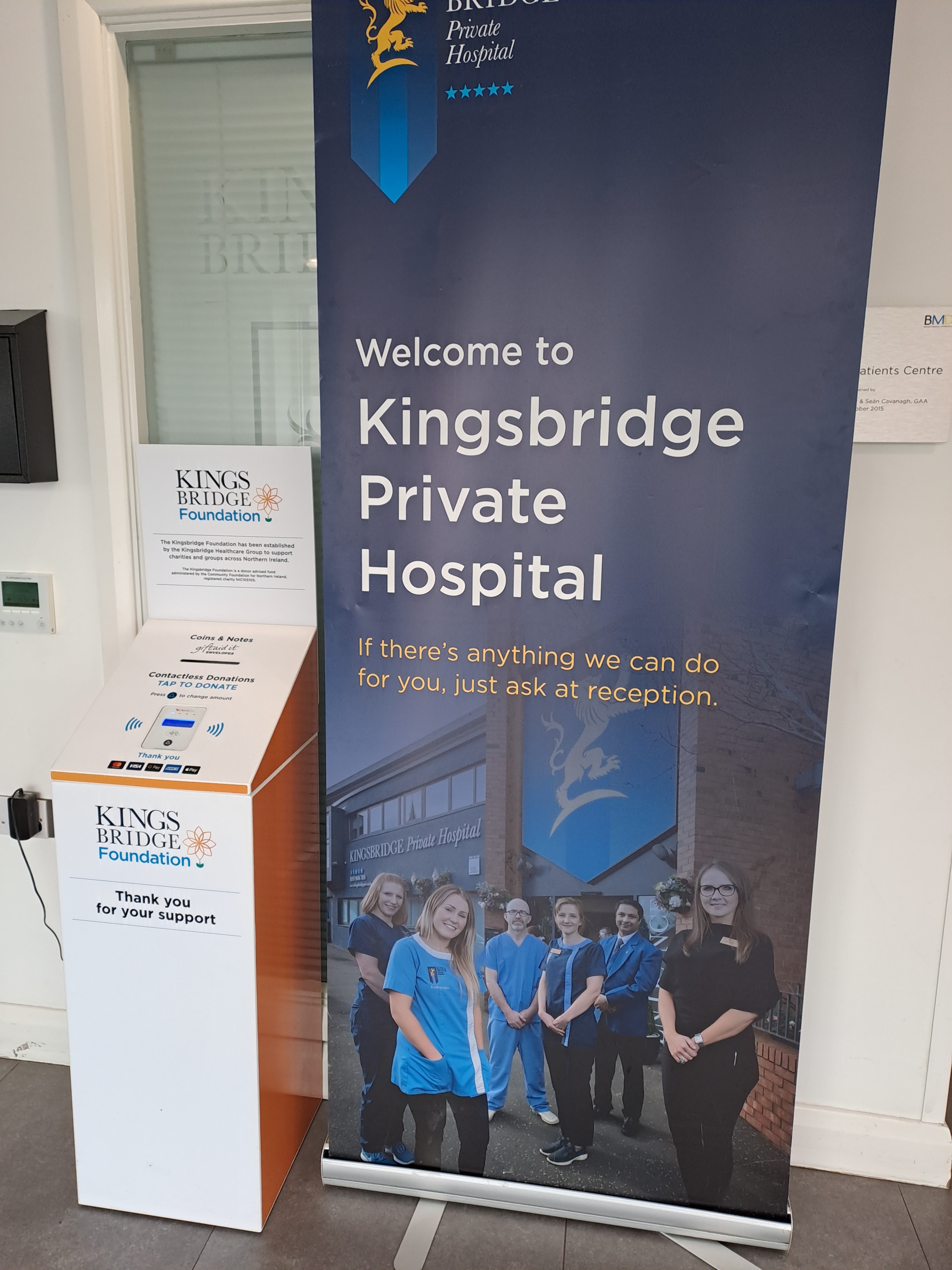 How can I apply for funding?
If you would like the Kingsbridge Foundation to lend a helping hand with a charitable cause in Northern Ireland, you can apply for funding by emailing charity@kingsbridgehealthcaregroup.com and a member of our team will be in touch as soon as possible.
---
Next article