Are you troubled with painful, itchy leg veins or simply fed up with their unsightly appearance? At Kingsbridge Private Hospital our team of Vascular Consultants are here to help.
Varicose vein surgery can remove varicose veins which are enlarged and twisted veins in the leg affecting both men and women. They tend to run in families and can become worse during pregnancy.
People who stand a lot in their daily life or are required to stand for long periods during work can also develop varicose veins.
Research shows that varicose veins affect about one third of people at some point in their life.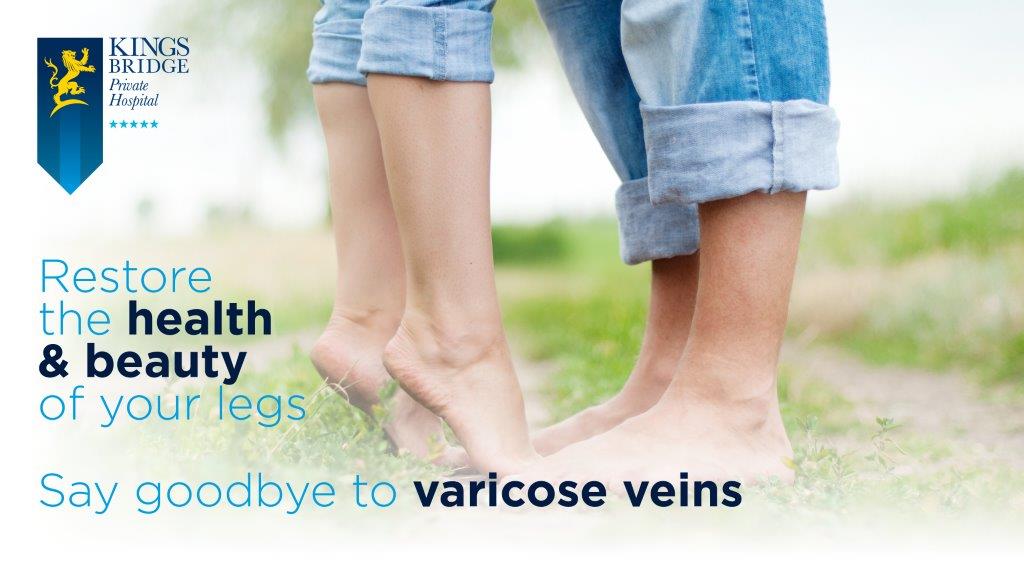 What Causes Varicose Veins?
Varicose veins can develop when the small valves inside the veins stop functioning properly. In a healthy vein, blood flows smoothly to the heart.
There are two main types of veins in your legs:
Superficial Veins - These lie under your skin and include the long and short saphenous veins.
Deep Veins
When blood doesn't flow properly from the superficial veins to your deep veins, pressure can build up and varicose veins can occur, this is due to valves in the leg or pelvic veins not working properly.
Valves are designed to let blood flow one way. The blood is prevented from flowing backwards by a series of tiny valves that open and close to let blood through. However, if the valves are damaged or weakened then blood may not flow correctly and can collect in the vein, eventually causing it to be swollen and enlarged (varicose) becoming visible.
What Procedures Can We Offer?
Treatment of Varicose Veins - Laser and Foam Sclerotherapy
Treatment of Leg Spider Veins - Micro sclerotherapy
Treatment of Facial Spider Veins - Shortwave Diathermy
Assessment and advice on Varicose Veins, Venous complications and clots
These procedures involve the closure of the veins using injected foam or applied heat energy through a small skin incision. These techniques have the advantage in that they can be carried out under local anaesthetic and rarely require overnight stay. Most patients will be able to walk immediately afterwards and can resume normal activities in 1 to 2 days. So why wait?

For further information on Varicose Veins, Spider Veins & Venous Disease, check out our latest blog by Phlebology Consultant Mr Zola Mzimba.

How Do I Book A Consultation?
To book a consultation with our veins specialist, please call us on 074 976 0000 or by filling out our Online Enquiry Form
Vein treatment is also available at all our other locations.
For further information and to book a consultation in Ballykelly, please click here
For further information and to book a consultation in Belfast, please click here
For further information and to book a consultation in Sligo, please click here
If you would like to book an appointment or require further information to set up your consultation or for further information, please do not hesitate to contact our private patient booking team via our online enquiry form.

Alternatively,
;