Meet The Queen's Elite Athletes - Jenna McCarlie
22nd, Feb 2023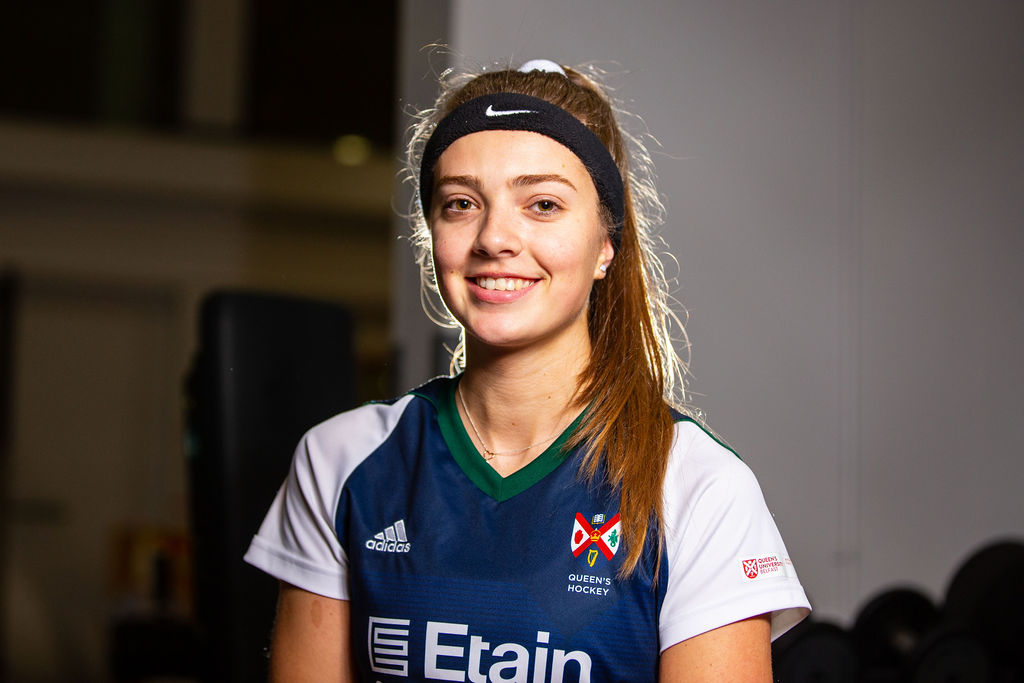 Kingsbridge Physiotherapy & Sports Injury Clinic works in partnership with the athletes, coaching staff and fitness teams at Queen's Sport, Queen's University in Belfast. As we approach the final semester we wanted to shine a light on some of the students and Elite Athletes that we are delighted to support.
First up is Jenna McCarlie, full time Dentistry student and elite athlete hockey player at Queen's whose goal is to go all the way to the Olympics, so watch this space!
Are you a morning person and if so what's the first thing you do when you waken up?
Yes, I'm up really early at 7.15am. The first thing I do is get ready, have breakfast (porridge or a bagel and cream cheese) and run to class. I tend to train at night.
What's your favourite meal time of the day and what are you most likely to have on your plate? 
Breakfast! It gets me out of bed, but I love all meals really as I love food.
Is nutrition important to you and if so do you take any daily health supplements?
Definitely! Eating well is really important. I've always done this. I used to sail when I was younger, so it is ingrained in me. I don't take supplements, only protein shakes.
How many times a week do you go to the gym?
I gym 2 - 3 times a week. I have on average 3 training sessions, 3 gym sessions and a match every week.
Have you ever been injured through your sport? If so, what happened to you and how long were you recovering?
No injuries so very lucky… touch wood!
What do you do to relax? 
I need to work on relaxing. I love to go out for dinner with my friends for meals, it's my guilty pleasure as a student!
If you didn't like hockey so much, what other sport do you think you might excel in and why? 
Sailing, Sailing, Sailing! I used to do British National competitions and World Championships but hockey just took over. My sister Ellen McCarlie and I used to compete against each other and travelled all over the world. Our Dad is a Marine Pilot so it's in the blood.
How many hours sleep to you get on average and do you think this is enough?
I love sleep, no less than 7 and more if I can help it.
What is the best advice you've ever been given? 
Recently I was told 'You'll never improve if you reside from you comfort zone'. So I need to step out of the comfort zone to improve!
What do you love most about being a student on the course? 
They really believe in you and whatever issues you have, there is someone there to help! We are all different, but all have the same end goals. It's a great environment to learn and it is very unique. It's a real privilege to be on the programme. The mentors really care about you as a person as well as an athlete.
Who are your biggest influencers in Sport and in Life?
In Sport - Erin Getty
Erin is a friend and ex EAP athlete. After experiencing an injury she still came back to play for Ireland, and she is a great example of how EAP and Kingsbridge can help you get back into competitive sport. I really look up to her. She's a great role model. 
In Life -  My Dad
He made a massive move recently to another country to work and left a great job. It was a courageous move but he has been amazing. He's a great sailor and a great role model. Mum is amazing too. My sister and I are very lucky!
I heard about it in Lower 6 when I was looking at Universities. I asked other athletes in hockey about it, and they all had really good things to say. It was influential in me choosing my university. I had been at Ulster University before, but the Elite Athlete Program swayed me to come to Queen's.
How do you find the support from Kingsbridge Physiotherapy Clinic and being able to avail of Athlete Profiling?
I had never used the Kingsbridge Physiotherapy Clinic before, but it is so comforting to know they are there. The strength testing days were really worthwhile and a great marker for my fitness. It was very reassuring as well that there are no abnormalities. The equipment is top class!
What have been memorable achievements so far, and what is in the pipeline for the remainder of the year?   
With regards to Queen's Hockey, we are currently sitting 2nd in the All Ireland Division 2 League and 5th in the Ulster Premier League. 
With about 10 games to go, our team goals are top 2 in the All Ireland Division 2 to then qualify for playoffs for promotion to Division 1, and top 3 in the Ulster Premier league which would re-qualify us for the All-Ireland Division 2 league for next season if we were not successful in being promoted. 
With being a pretty new team, we have done very well so far this season and the potential the team has is really exciting!
Just before Christmas, I was part of the Ulster U21 team who won the Interprovincial Championships. This was my last opportunity to play for Ulster as unfortunately there is not a Senior women's Ulster team, so it was a great end to my five years in an Ulster shirt.
Off the back of the Interpros, I have been training in Dublin with the U21/U23 Ireland squad in preparation for international series/tournaments in the summer time. 
I have also started seeing my own patients in Dental School, which is challenging but really exciting!
I have a very busy but have exciting few months ahead of me, so it is really important that I stay well rested, hydrate and recover well to ensure no hurdles come my way with injuries/illnesses. Over the last few weeks I have been going swimming in the PEC which I am finding really useful for recovery, and a great way to clear my mind.
What is the end goal?
I want to go the whole way to the Olympics… Watch this space! 
If you would like to find out more about the Queen's EAP Programme and other programmes available, please click here
For further information on our services available at Kingsbridge Physiotherapy Clinic, please click here
---