Kingsbridge Healthcare Group Announces Opening Of £2.25 Million Eyecare Service In The North West
18th, Aug 2023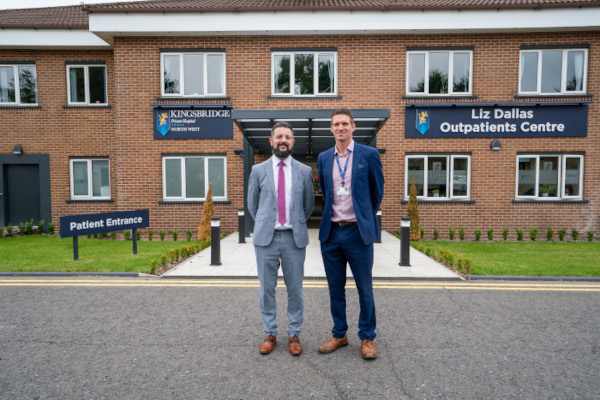 New clinic will use a shared care online medical platform to facilitate faster and smoother referrals for patients, while creating 10 new jobs.
Kingsbridge Healthcare Group (KHG), Northern Ireland's leading independent healthcare company has officially opened Kingsbridge Eye Clinic, a £2.25 million surgical facility with complementary eyecare services at their hospital in the North West, based in Ballykelly.
This latest announcement which forms part of an overall multi-million investment in Kingsbridge Private Hospital North West (KPHNW), will create 10 new jobs and provide a one stop service primarily for patients in the local area, but also throughout Northern Ireland, who require cataract or oculoplastic surgery.
Anthony McKenna, General Manager KPHNW explains,
"This new centre of excellence has been established to meet the needs of patients in the North West who previously had to travel greater distances to access treatment for cataracts or plastic surgery.
With state-of-the-art ophthalmology equipment and a designated theatre incorporating specific air changing features for specialist eye surgery; patients from across the North West, Mid Ulster and into Donegal, can now be assured of excellent surgical care in a convenient and comfortable location."
Andrew Spence, Group Ophthalmology Business Development Lead at Kingsbridge Healthcare Group was delighted to be part of the team that has helped to develop this new eye clinic at Kingsbridge Private Hospital, North West. He said,
"With a capacity to treat up to 7000 patients annually, Kingsbridge Eye Clinic will play a vital role in tackling the high numbers of people currently waiting for cataract surgery, locally and in the South of Ireland who can access the service through the Cross Border Healthcare Directive."
Staffed with a team of HCA's, nurses, three new local surgeons and an optometrist, the centre will offer a seamless and efficient service using an online platform, Eye Refer. Andrew explained,
"The new Eye Refer platform has been a game changer as we are able to collaborate with our patients own community clinical teams, to deliver fast and effective treatment and solutions. The feedback we are receiving and the outcomes that our eye clinics are delivering have been life changing in many cases."
Mr David Mulholland, Consultant Ophthalmic Surgeon who specialises in treatments for macular disease and cataract surgery said,
"This shared care online platform will facilitate a much faster and smoother process for patients, clinicians, and community opticians. The ability to offer direct referrals and share patient information provides a seamless and paperless information pathway on treatments and medical records ensuring a speedier process with shorter lead times."
Consultant Ophthalmologist Mr Barry Cartmill echoed the benefits that this new eye clinic will bring to the region especially for those who require specialist eyelid and facial plastic surgery.
"Many of the patients we see may require anything from the simple removal of a lid lump or bump around the eye to more complex reconstructions like eye lid surgery. This can be daunting for some so the positioning of this service within the main hospital next to the Liz Dallas Outpatients Centre is ideal, meaning patients can be confident that any post operative treatment will be undertaken at one location where they can take advantage of free carparking, minimal travel time and relaxed surroundings."
After months of research and development the staff at Kingsbridge Eye Clinic have worked hard to deliver the services surrounding the new facility and have been getting lots of referrals and great feedback from optometrists and clinicians across the region. Anthony concluded,
"We are proud to have a team of some of the best consultant ophthalmic surgeons on the island working with us to deliver cutting edge solutions in state-of-the-art facilities which delivers outstanding patient care; before, during and after patient procedures."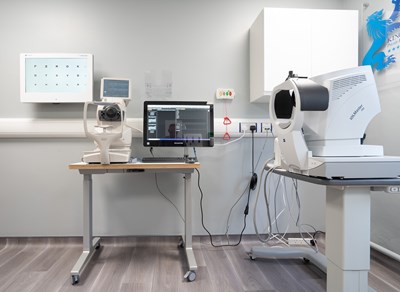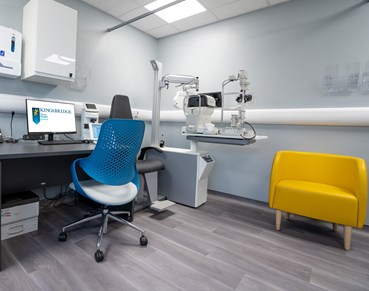 For further details on surgical procedures and services offered at the new Kingsbridge Eye Clinic, please go to Kingsbridge Eye Clinic where you can also make an appointment or enquiry.
Pictured (l-r) outside the new £2.25m Kingsbridge Eye Clinic at the Liz Dallas Outpatients Centre in Ballykelly are Anthony McKenna, General Manager Kingsbridge Private Hospital North West and Andrew Spence, Group Ophthalmology Business Development Lead at Kingsbridge Healthcare Group.
---